PERSONAL TRAINING - BOXING - INJURY MANAGEMENT

Starr Hindley
A comprehensive knowledge developed over a lifetime of amateur sport has proven invaluable since I began Personal Training in 2001. My skill base includes general fitness, specialising in injury management/rehabilitation, sports specific training and weight loss.
Since 2003 I have trained and competed in amateur boxing, using the skills I developed to train the general public. During this time I was lucky enough to get an opportunity to work with many top level athletes.
I really do believe the core of health and wellbeing can be found in the attainment of goals. When you train not only is your technique and safety paramount but also your enjoyment and comfort levels. I realise that many people don't always like fitness training and whilst you have to put the work in it's not always going to be about sweating till exhaustion, there are many ways to reach your goals!
The body always follows the mind
Bruce Lee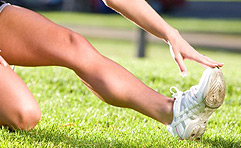 After many years experience I can teach you how to safely exercise to repair, improve or manage your injuries. For inclusive management scheme I will work in conjunction with Myotherapists, Chiropractors and Physiotherapists.