PERSONAL TRAINING - BOXING - INJURY MANAGEMENT

At Starr Personal Training we believe the core of health and wellbeing can be found in the attainment of goals. These achievements nourish both our bodies and our minds and create immense energy. When we nourish our spirit we achieve great power.
The studios of Starr Personal Training have been created to offer a dynamic, yet personal and peaceful training environment.
If you are wanting to:
Increase your confidence, sense of self and achieve goals
Improve fitness, weight loss, postural correction, boxing or sport specific exercise
Learn in a safe, friendly comfortable environment
Have your own choice of music
Work in your own training area
The body always follows the mind
Bruce Lee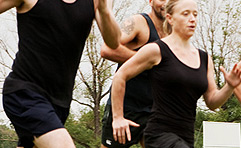 Learn to run with others of similar ability in a fun safe environment. Train in small groups with options of follow up programs and fun runs. Couch to 3.2km in 9weeks